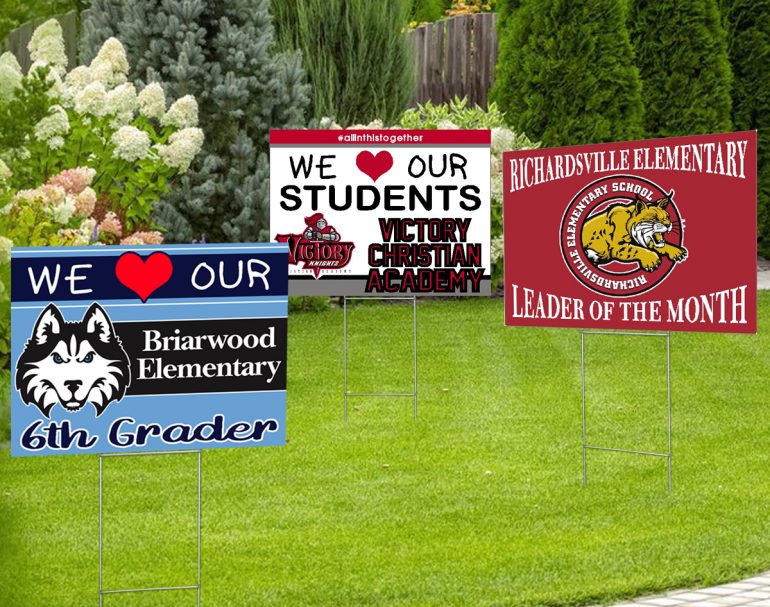 High-quality yard Signs / Political Campaign Signs
Printed Yard Signs, also known as Coroplast signs or Corrugated signs, may be the perfect budget-friendly and tried-and-true option for your advertising campaign. Yard signs are one-sided or two-sided waterproof and stain-resistant plastic corrugated boards with wire or wooden stakes, which are inserted into the ground and ensure permanence through all weather conditions. Yard signs are the perfect solution if you plan to place announcements or advertisements without any difficulties, attract your future target audience and drive foot traffic. Yard Sign Printing is optimal for both outdoor and even indoor applications.
Yard signs are a powerful and transferable tool for quick outdoor advertising. These are the traditional part of every business promotion, political and marketing campaign, real estate and properties promotion, event gatherings, and graduation party. From miniature business yard signs to bigger real estate yard signs, they attract attention and generate interest in the minds of your place's passers-by about your products, services, or just properties. Adding yard signs to your marketing campaign will definitely amaze you with its results. It's another easy way to convey a message to thousands of people.
Interested In Our Services?
We will be really happy to hear from you, call us at 818-638-8168 or send us a message. We typically reply in one working day.