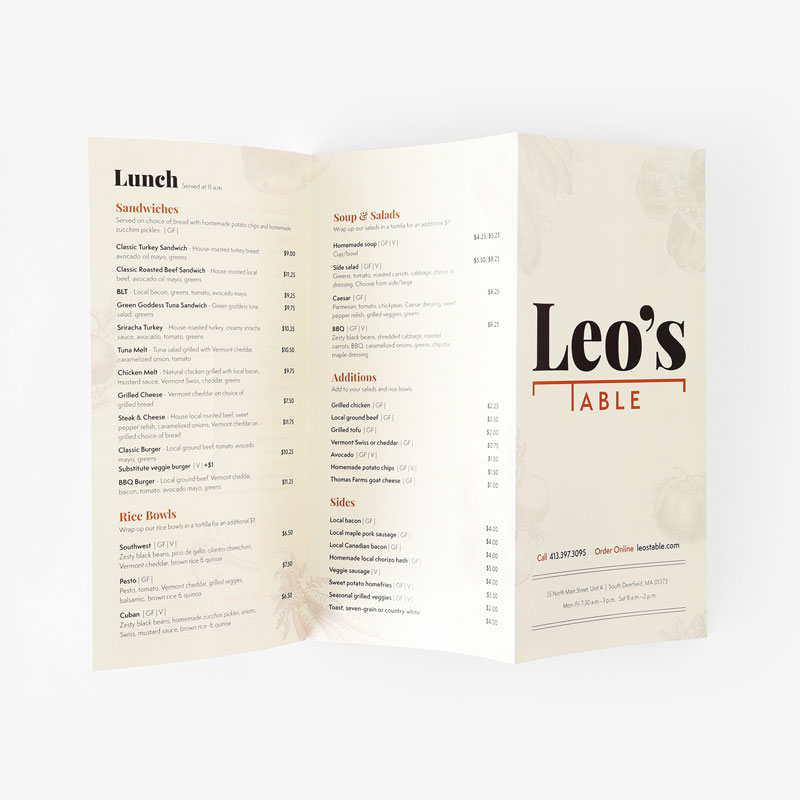 From sit-down to take-out, our custom menus are made-to-order. We make it easy to design and print your restaurant menus online with options for whatever you can cook up Cater to your customers' taste with custom restaurant Brochure Menus.
You can make your own dine-in menus, disposable take-out menus and more with our convenient brochure menu printing options. Design yours with images of food, staff and logo or branding, and keep them looking great with protective lamination. Plus, with our Versions feature, you can create different menus with the same specs to be kept in-house or mailed to neighbors for your hometown café or national franchise.
6″ x 9″
8.5″ x 11″
8.5″ x 14″
9″ x 12″
11″ x 17″
100 lb. Gloss Book
100 lb. Gloss Cover
70 lb. Opaque Smooth White
80 lb. Gloss Book
100 lb. Recycled Matte Cover
80 lb. Recycled Matte Text
Recycled paper option available.
Half Fold
Tri-Fold
Z-Fold
Open Gate Fold
Closed Gate Fold
Double Parallel Fold
Double Parallel Reverse Fold
Roll Fold (4 Panel)
Half Fold then Half Fold
Half Fold then Tri-Fold
Accordion Fold (4 Panel)
Interested In Our Services?
We will be really happy to hear from you, call us at 818-638-8168 or send us a message. We typically reply in one working day.